Students choice of selecting a university abroad depends heavily on the employability opportunities. Every year "The Times Higher Education" releases ranking list for universities around the world. The ranking is based on 13 performance indicators which measure the institution's performance across teaching, research, knowledge transfer and international outlook.
The list is prepared after compiling answers of several recruiters, chief executives and business managers from top companies in 20 countries.
Let us have a look at the list "Top 10 Universities in Spain for Higher Education for the year 2020"
Established in 1990, Pompeu Fabra University (UPF) is a public university in Barcelona, Spain, the country's Catalan capital.
UPF is known for flexibility and dynamism. Studies at the university are increasingly customisable.
The university's main strengths are its Social Sciences and Humanities, Health and Life Sciences and Communication and ICT.
UPF was commissioned by the Catalan Parliament to train young professionals and to improve Spain's contributions to global research.
The university is named for the linguist Pompeu Fabra, an expert on the Catalan language, credited with standardising this once-disused language and revising it, giving it the status it holds today. Catalan is the official language of UPF. Students wishing to learn Catalan tongue will have plenty of opportunity in Barcelona and around Pompeu Fabra.
Barcelona is a vibrant city and one of the top tourist spots in Europe, with its blue ocean, sandy beaches, museums, fashionable shops and Gaudi architecture. Gaudi's masterpiece, the Basilica of the Sagrada Familia, dominates the city's northern skyline.
UPF has three campuses around the city. Social and Human Sciences are studied at Ciutadella, Health and Life Sciences at Mar and Communication and Information Technologies at Poblenou.
Autonomous University of Barcelona
The Universitat Autònoma de Barcelona (UAB) is known for its excellence in research and quality in teaching, and is a reference centre in Europe. The UAB is located only 25 minutes via public transportation from Barcelona's city centre, a cosmopolitan metropolis lying on the shores of the Mediterranean Sea. The main campus is located in Bellaterra, in the heart of one of the main industrial and technological poles of Mediterranean Europe.
The UAB caters to all aspects of university life. The campus is a true city of knowledge with almost 50,000 inhabitants: students, lecturers, researchers and administrative staff. It is organised with all the necessary services for the university community: residence halls (2,100 places), specialised libraries, a language learning centre, sport facilities (with a gym, pools, football pitch, etc.), healthcare centre, restaurants, stores and cafés.
The UAB offers top-level postgraduate and graduate programmes in almost all areas of knowledge:
87 bachelor's degrees. Its international dimension can also be seen by the high number of students from abroad enrolled (1,469 international bachelor's degree students). The degrees in Business Management and Administration, Economics, Primary Education and Tourism are offered fully in English, and many other degrees offer subjects in English.
315 Master's Degrees, whose aim is to provide students with an advanced-level, specialised, multidisciplinary education oriented towards both professional specialisation and research initiation.
68 PhD programmes, providing advanced training in research techniques, culminating in a doctoral thesis (1,114 PhD theses in 2015-2016). They involve preparing and defending a thesis and usually last three years, with the aim of producing top-level academic and professionals. A total of 27 of the UAB's PhD programmes have received an Excellence Award. The European Doctoral Research Component includes stays in different European countries and the participation of lecturers from foreign universities.
The international dimension of the UAB can be seen by the number of students enrolled from abroad, especially in master's degrees with 2,105 international students (35%), and PhD programmes with 1,692 international students (33%). There are over 45 master's degrees taught 100% in English.
The UAB promotes innovation, employability and entrepreneurship. It strives to foster research and transfer in all areas of knowledge and works closely together with the surrounding business and industrial community, as well as with scientific centres such as the Alba Synchrotron Light Facility, located five minutes away from campus.
The UAB campus includes 351 research groups, 57 departments and 68 research institutes and centres, many of which were created in collaboration with important scientific institutions, and all of which conduct a large amount of research activities (3,316 articles published in indexed journals according to 2015, Thomson Reuters WOK). Research activities are also carried out in the five UAB-affiliated hospitals, three of which have been awarded the Carlos III Health Institute's seal of excellence.
The university actively encourages the involvement and participation of its students in volunteering activities and community service, and has been recognised by several institutes for these tasks. It also carries out awareness-raising campaigns among the university community.
The UAB facilitates participation in mobility programmes and works to attract students from abroad (3,546 international mobility students). Its most important projects are Erasmus Mundus, Comenius, Leonardo Da Vinci and Erasmus K2. It also has specific programmes which welcome and aid international students once they arrive at the UAB. Under the Erasmus programme alone, the UAB has 1,300 bilateral agreements with more than 500 universities in Europe.
University of Barcelona
The University of Barcelona, founded in 1450, is a comprehensive higher education institution that presents deep academic tradition coupled with frontier scientific knowledge. It is located in the city of Barcelona, one of the main cosmopolitan hubs in the Mediterranean and indeed in Europe. The University of Barcelona's sixteen centres, clustered into six main campuses, are spread over the city and completely integrated into the urban life. Thus the majority of which are located within the city itself. The city itself becomes the campus of the University.
Being one of the biggest universities in Spain, the University of Barcelona welcomes a large number of students from both Spanish universities and abroad every year. It has over 44.000 undergraduate students and almost 19.000 master and postgraduate students and doctoral candidates. Almost 15% of the students are from overseas and of over 122 different nationalities.
As a public institution, the University of Barcelona, focused on academic excellence, is committed to training and preparing the present and the next generation of global citizens—professionals, researchers, entrepreneurs, leaders—with the capacity to work at the highest level anywhere in the world. At the same time, University of Barcelona's commitment to research has positioned it first in Spain in International rankings; and as one of the most prestigious universities in the world regarding research impact.
The University of Barcelona has an international vocation, thereby is a member of leading worldwide university networks, including the League of European Research Universities (LERU), the COIMBRA group (CG) and the coordination of the Arab-Euro Conference on Higher Education (AECHE). It has over 2.800 International agreements, including agreements with 82 of the top 200 universities in the world (Times Higher Education Supplement).
The University of Barcelona offers future students a wide range of courses in almost all areas of knowledge tailored to their needs:
73 bachelor's degree courses.
Adapted to the requirements of the European Higher Education Area (EHEA), students will also have the option of enrolling in dual pathways and completing two different degree programs at the same time.
Two degree courses are taught wholly in English (International Business and English Studies) and five are taught partially in English.
More than 140 official university master's degree courses.
Those courses, including interuniversity degrees and Erasmus Mundus degrees, offer graduates either a professional or a research pathway, and allow them the access to doctoral programs.
Adapted to the requirements of the EHEA, those courses are distributed into five branches of knowledge: Arts and Humanities, Education, Experimental Sciences, Health, and Social Sciences.
Twenty-four master's degrees are taught entirely in English—six of them through the Erasmus Mundus programme.
More than 400 UB-specific master's degree courses and postgraduate diplomas.
Face-to-face, blended or distance, those courses are designed to polish graduates' skills and abilities so that they can specialize in a professional area and prepare professionals who are looking to retrain.
Aimed at the advanced training for the student in research techniques through an organized set of educational activities and research which, prior to the preparation and the doctoral thesis defense, results in obtaining a doctoral degree. Each year more than 750 doctoral theses are submitted.
As the University of Barcelona is aware of the need to complement, extend and update knowledge in a changing world, it provides a series of other courses, as the Study Abroad program, the University of Barcelona International Summer School, or the courses on Spanish language and culture offered by the Institute of Hispanic Studies.
Besides those academic programs, the University of Barcelona offers a wide range of services and facilities to the students, as the academic counselling and career services, more than 100.000 square meters of sports facilities, a network of seventeen libraries or a set of residences halls and other housing facilities.
Autonomous University of Madrid

The Autonomous University of Madrid (AUM) was founded in 1968 as a public university by the Spanish Government. Situated on a rural campus connected to Madrid by commuter train, the university has a reputation for excellence both in research and academia. AUM is often considered one of the better higher education establishments in Spain; it frequently features among the country's top universities in rankings and also ranks well in Europe and further afield as well.
The university is divided into eight faculties, each of which are home to different departments with their own areas of expertise. AUM has around 60 departments and these offer undergraduate and postgraduate qualifications as well as PhD level study. There are also eight research institutes at the university allowing specialists in their fields to come together and collaborate on cutting edge projects.
The main campus is situated on the outskirts of Madrid in the Cantoblanco area. The area was designed to be a self-contained student city extending over many square kilometres with parkland, academic buildings and sports and leisure facilities. The campus currently boasts 16 cafes and canteens, indoor and outdoor pools, its own medical centre, sports pitches and beach volleyball courts as well as its own train station and bus services linking the campus to central Madrid.
Famous alumni include several former government ministers, Gaspar Llamazares former leader of the United Left Party and none other than HM King Felipe VI of Spain who graduated with a degree in Law and courses in economics.
The University of Navarra is a Christian-inspired university established by St. Josemaría Escrivá de Balaguer, the founder of Opus Dei. Its mission is to seek out and communicate the truth, contribute to the academic, cultural and personal advancement of its students, promote scientific research and teaching, offer professors and other employees outstanding opportunities to develop and, prompted by a refined desire to be of service to others, undertake a wide-ranging endeavor of cultural communication and social promotion.
At the crossroads of knowledge, where art, research and teaching come together, each degree program is a world unto itself, but all share the same core mission: to discover who you are, what your talents are, and where, how and in what field you can display them.
Our campus is where dialogue between university students, professors and researchers becomes the common thread of university life.
When the University of Valencia was launched in 1502 it specialised in the studies of medicine, humanities, theology and law. The Spanish institution now offers degrees in basic and experimental sciences, engineering, health sciences, humanities, education, and social, economic and legal sciences. Most of the courses are taught in Catalan.
It has three campuses: the Blasco Ibáñez and Tarongers sites in the centre of the city and the Burjassot-Paterna campus in the municipal districts to the north-west. Classes are also held at Ontinyent and Gandia, both of which are south of the city in the Valencian Community.
The University of Valencia is made up of 18 faculties and schools and 19 interdisciplinary research institutes. Altogether it offers more than 50 bachelor programmes, 110 master's degrees and 60 doctoral programmes.
Its science park is home to more than 80 start-up companies and six research institutes including the Astronomical Observatory. The university also has its own botanical garden, which was founded in 1567 and was originally used to grow medicinal plants for its medical school. It was then used to hold classes in botany and carry out acclimatisation experiments and today the garden carries out research into plant diversity and conservation.
The city of Valencia itself – Spain's third largest city – also has much to offer. Situated on the country's Orange Blossom Boast, it is home to the City of Arts and Sciences, one of the 12 Treasures of Spain and a cultural complex including a cinema, museums, gardens, arts centre and aquarium.
Complutense University of Madrid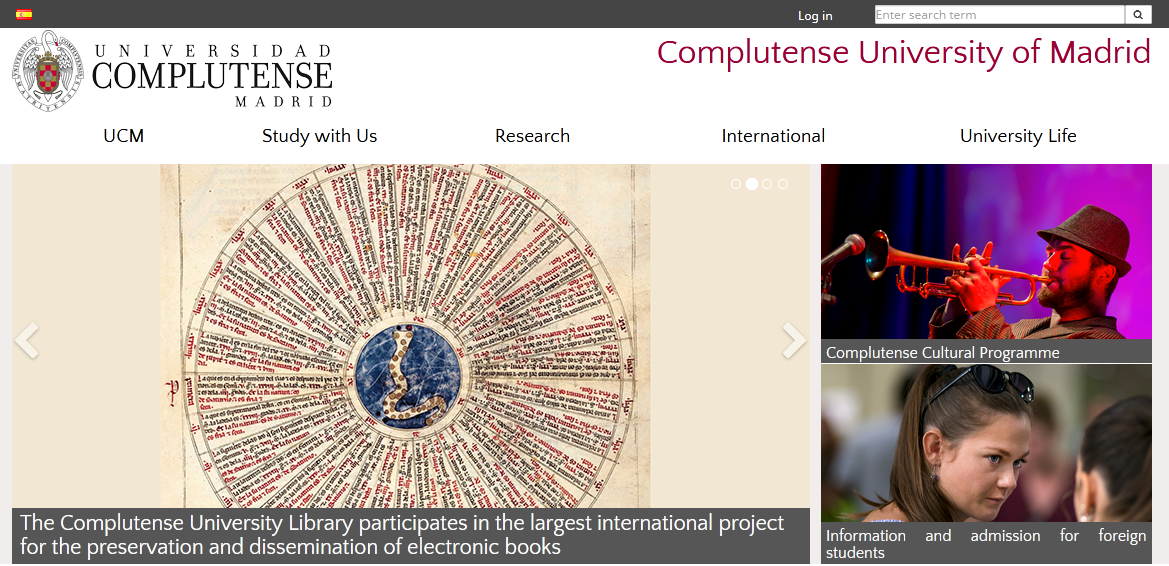 Considered to be one of the oldest universities in the world, the Complutense University of Madrid has roots that date back to the 13th century, when Sancho IV of Castile granted a license to establish what was formerly known as a 'General School of Study' in the city of Alcalá.
The original Ciudad Universitaria campus was founded in 1927 with the goal of merging education, science and culture. Nowadays, the highly competitive university is home to over 86,000 students and is spread across the whole of the Ciudad Universitaria area of Madrid.
As the largest university in Spain, it also has institutions in the neighbouring city of Pozuelo de Alarcón.
Courses in the university are divided into a number of science faculties including media and communication science, teaching and learning science, and computer science. It also contains a faculty of Art and programmes in geography and veterinary medicine.
Additionally, the university comprises specialist schools that focus on medicine and legal studies. It offers summer courses in the world heritage site of San Lorenzo del Escorial and boasts a number of study abroad programmes with universities located in Paris, Prague, Slovakia and the US.
Alongside its own newspaper and radio station, the university houses over 100 recreational societies and several competitive sports teams. It is also one of Madrid's leading venues for film premieres and all major Spanish film productions are screened in front of an audience of Complutense students.
The university's alumni includes many famous historians, philosophers, poets and Prime Ministers.
Its graduates are given 'lifelong training' that furnishes them with professional skills allied to their chosen fields of work and alongside their academic studies.
The Open University of Catalonia (UOC) offers remote courses in Catalan, Spanish and English. Among the 27 bachelor's degrees and 44 master's degrees on offer are courses in psychology, computer science, education and economics.
The university is based in the capital of Catalonia, Barcelona. Over 50,000 students are enrolled on a remote course. Along with its bachelor's and master's courses, it offers a doctoral programme in digital subjects such as e-law, e-learning, network society, education and online communities.
The university has support centres across Spain, as well as Andorra and Mexico. It also has a presence in Alghero in Sardinia, where many residents speak Catalan.
In line with other open universities, the majority of resources are available to students within their home. This makes it a good choice for anyone wanting the flexibility of studying in their own time or without travelling to a university campus. As a result, students at UOC tend to be older than those enrolled at traditional universities, with 60 per cent aged over 30. It has a relatively small staff of co-ordinators, who contract professors from other universities to design its courses.
It was founded in 1994 and has built up a reputation for its research into e-learning and online participation. The university's eLearn centre was set up in 2009 and has focused on time patterns in online learning, for example, how regularity of assignments affects student commitment.
The regional government of Catalonia provides accreditation to the university, while the majority of its courses are approved by the Spanish Ministry of Science and Innovation.
University of Rovira i Virgili
The Rovira i Virgili University (URV) was created in 1991 by the Catalan parliament. Located in southern Catalonia, it has developed a multi-centre structure with six campus sites. The URV employs nearly 1,000 full-time equivalent academic staff (4 per cent international, 38 per cent adjunct lecturers) and 640 administrative and service staff. Its total budget is €98.9 million. The URV's scientific production is reflected in its 998 Web of Science publications (2013) and its presence in six ESI areas of excellence. The number of publications per permanent member of teaching staff is the fourth highest in Spain. The special emphasis that the URV has placed on research allows it to play a leading role in regional development, especially in the areas that are closely linked to the economic strengths of the region: chemistry and energy, nutrition and health, tourism, heritage and culture, and oenology. The wide-ranging and well-defined relationship between the university, business and society is one of the main reasons why the URV and its surroundings have been recognised as a Campus of International Excellence by the Spanish Ministry of Education. As such, the URV provides the region with a knowledge structure that is internationally visible and that achieves international recognition.
The University of Alcalá (UAH) is a public university located in Alcalá de Henares, Madrid, a Unesco world heritage site and one of the longest standing European universities, dating back to 1293. In 1499, Cardinal Cisneros expanded the institution's studies with the creation of a higher college that would later become the University of Alcalá, one of the first examples of a model university town. Today the University of Alcalá is a modern institution, founded in 1977, that offers a wide range of undergraduate and postgraduate degree programmes adapted to the European Higher Education Area and covers all fields of knowledge, from humanities to engineering, and from social science to experimental and biomedical science. Today's University of Alcalá preserves its traditional humanities faculties, a testimony to the university's efforts to promote and diffuse the Spanish language through both its studies and the Cervantes Prize, which is awarded annually by the king and queen of Spain in the Paraninfo (Great Hall). The university has added to its time-honoured education in the humanities and social sciences new degree subjects in scientific fields such as health sciences and engineering, spread out across its three campus, nine faculties and 23 departments. The university boasts four associated teaching hospitals where students may do their internships. The university is firmly committed to research, technological innovation and collaboration with business and industry.
Download uLektz Apps for Latest Educational News / Events / Scholarships
Follow us: #facebook #twitter #linkedin also enroll our skill course