Students choice of selecting a university abroad depends heavily on the employability opportunities. Every year "The Times Higher Education" releases ranking list for universities around the world. The ranking is based on 13 performance indicators which measure the institution's performance across teaching, research, knowledge transfer and international outlook.
The list is prepared after compiling answers of several recruiters, chief executives and business managers from top companies in 20 countries.
Let us have a look at the list "Top 10 Universities in Taiwan for Higher Education for the year 2020"
Widely considered as Taiwan's most prestigious university, the National Taiwan University is now a research university highly respected across the world.
Its history stretches back to 1928 when the institution was founded as the Taihoku Imperial University by the Japanese colonial administration. It was later handed to the nationalist government of China in 1945 after it won the war of resistance against Japan, leading to its new name, National Taiwan University.
The university, known as NTU, now has 11 colleges, with 54 departments and 103 graduate institutes, four university-level research centres (population and gender studies, condensed matter sciences, biotechnology and biodiversity), with an overall student population of around 33,000, including 17,000 undergraduates and 15,000 graduate students.
It has five campuses in the Tapei area and two further afield, though its main campus is situated in the heart of Taipei.
Among its notable alumni include the Nobel laureate Yuan T. Lee, the first Taiwanese scientist to win the accolade when he picked up the award for chemistry in 2009, computer scientist Andrew Yao, a professor at Princeton, and the current president of Taiwan Tsai Ing-wen – one of four heads of state to attend NTU.
The university's motto is 'Integrity, Diligence, Fidelity, and Compassion', which is adopted from a line in the speech made by President Ssu-Nien Fu in 1949 as he celebrated the fourth anniversary of the university.
The university also has its own official song, whose lyrics were drafted by Kang-Po Shen, dean of the College of Liberal Arts, in 1968, which were set to music by composer Yuen-Jen Chao.
Originally established in 1911 in the Chinese capital of Beijing, National Tsing Hua University (NTHU) relocated to Hsinchu City in Taiwan in 1956 following the defeat of the Kuomintang-led government against the Communist Party in the Chinese Civil War.
NTHU today offers a wide range of programmes in science, technology, engineering, humanities, social sciences and management. It comprises seven colleges, 17 departments and 22 independent graduate institutes.
To be enrolled on NTHU's undergraduate programmes, most students need to pass the Joint College Entrance Exam in order to qualify. Others may be admitted through various programmes or schemes, and international students are selected by the Ministry of Education. Foreign students with a high school diploma may apply for baccalaureate programmes through the Office of Global Affairs.
At master's level, students with an undergraduate or baccalaureate degree are still required to pass an entrance exam. Outstanding students may be directly admitted through a special and competitive selection process. The same is true for those wishing to study for a doctoral degree. There are currently 31 doctoral degree programmes on offer at NTHU.
There are 150 student-run clubs at the university across a number of areas. These include Student Associations, Crafts and Skills, Music and Entertainment, Service, Art, Sport, General, and Functional Teams. Excellent facilities include a gym, swimming pool, ball courts, and track and field. Every year since 1969, the university takes part in the Meichu Games which sees students compete with their neighbouring rival, the National Chiao Tung University.
On campus, there are 21 dormitories with a maximum capacity for 6,000 students. Many of the university's 600 faculty members also live on campus providing an integrated community in which students and staff can interact with each other outside of the lecture theatre.
Taipei Medical University (TMU) has been a leader in Taiwan's healthcare system for more than half a century. Around 6,000 students from over 40 countries are currently enrolled in TMU's 10 colleges. TMU leads in many research areas including translational cancer research, neuroscience and neurosurgery, biomedical devices and tissue engineering, cell therapy and regenerative medicine, and biomedical informatics. As one of the capital city region's largest healthcare systems, TMU's 3 affiliated hospitals – TMU Hospital, Wan Fang Medical Center, and Shuang Ho Hospital – are all accredited by Joint Commission International (JCI) to guarantee world-class standards and practices, providing ample opportunities for professional skills training and research. TMU's education offers have expanded with the university's commitment contributing to health service worldwide, accommodating interests of students from around the globe to develop area expertise and service their own communities. The permanent appointment of the university's medical teams to assist the Kingdom of Swaziland and the Marshall Islands provides a unique opportunity for service and education, as well as enhancing Taiwan's health diplomacy. TMU's commitment to internationalization has resulted in over 40,000 alumni working to improve healthcare systems in 70 countries. As the university approaches its sixth decade, TMU continues to change and advance in global rankings that have placed it at the front of Taiwan's private universities in medicine and health science.
China Medical University, Taiwan
Founded in 1958 and located in Taichung, a city in central Taiwan, China Medical University (CMU) was the very first non-profit academic institution offering degree programs in Chinese Medicine and Pharmacology in Taiwan. With well-designed, internationally competitive programs and renowned faculty members from all over Taiwan and around the world, the university has steadily grown over time to its present status as one of the foremost medical universities in Taiwan and the Greater China region.
CMU aims to develop traditional Chinese medicine and promote its synthesis with Western medicine. It consists of 8 colleges, which together offer educational, research, and practical programs in Western Medicine, Chinese Medicine, Dentistry, Pharmacology, Health Care, Biopharmaceutical and Food Sciences, Public Health, and Humanities and Sciences. Interdisciplinary courses are also available for students that wish to integrate and subsequently broaden their learning experiences. Annually from 2011 to 2017, CMU was awarded the highest subsidy from Taiwan's Ministry of Education's Teaching Excellence Project. With its modern state-of-the-art laboratories, three comprehensive teaching hospitals, and staff who all have a strong commitment to their students, CMU is dedicated to providing excellent opportunities for local and foreign students to get the best education possible so that they can pursue careers in the fields of healthcare and the life sciences.
CMU was ranked 6th among Taiwanese universities in the Times Higher Education World University Rankings for 2016-2017. Its research achievements as reflected by its publications have been outstanding not only in quantity but also in quality. Backed by our versatile programs as well as extensive resources, we at CMU have never stopped and will never stop endeavoring to provide a stimulating and thought-provoking academic environment for both faculty and students.
On the research front, CMU has significantly broadened its breadth and depth by recruiting talented and outstanding scientists from around the world. These prestigious foreign scientists make up a part of the 500 full-time, dedicated faculty members currently working and teaching at CMU. Also of note, CMUH's healthcare system, which owns 4 Joint Commission International-accredited hospitals and 11 subsidiaries with a total of over 5000 beds, is the second largest healthcare system in the entire nation of Taiwan
CMU's three missions are as follows: to become a global leader in both Western and Chinese medicine, to provide medical services to our community, to educate future health care professionals, and to contribute to the world's knowledge in the health-related sciences.
National Chiao Tung University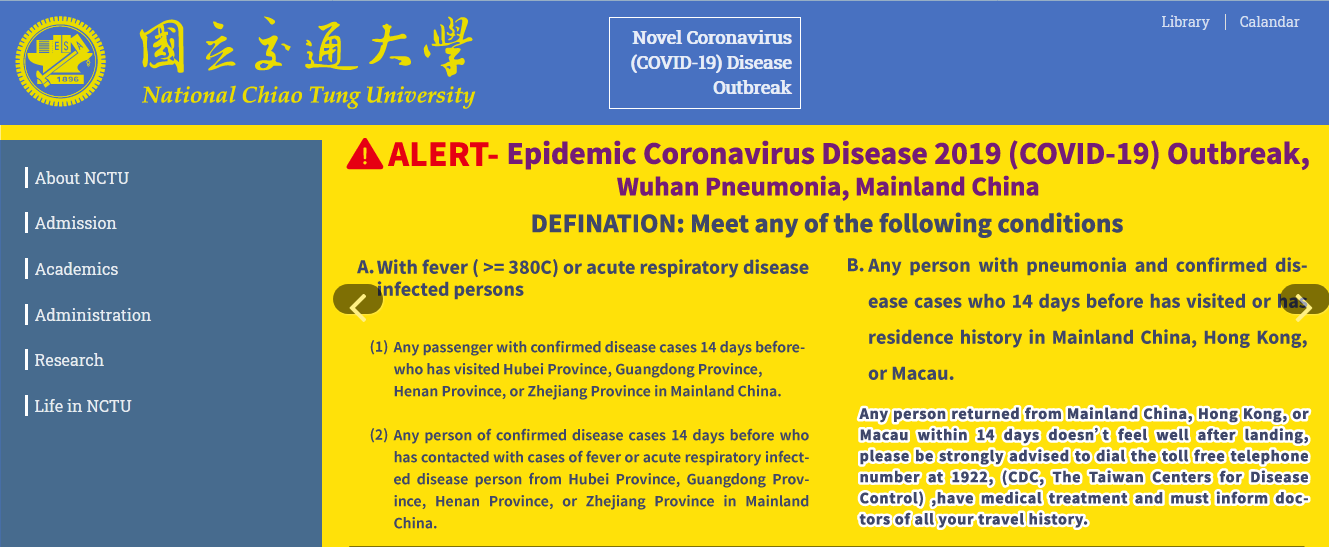 Founded in 1896, National Chiao Tung University (NCTU) in Taiwan is one of the oldest Chinese universities introduced under the Western education system.
It was also the first Chinese university to introduce an electrical engineering programme, and the first to offer a combined engineering and management course at a higher education level.
Today, the research-intensive university is organised across 11 colleges and one school, with 21 departments offering a range of undergraduate and graduate degrees, including courses in science, engineering, computing, law and the social sciences.
NCTU has expanded its international reach in recent years, cementing its position as a key destination for overseas students within Taiwan and many of its courses are taught in English.
It emphasises practical and skills-based methods of teaching, something which is evident in the university's official motto: 'Absorb the new to look far ahead, and work pragmatically.'
As one of the world's leading technological universities, NCTU attracts doctorates from some of the world's most prestigious universities including Berkeley, Harvard and Cambridge.
Its alumni include a number of Nobel Laureates, including Yuan T Lee, who was awarded the 1986 Nobel Prize in Chemistry, the first Taiwanese recipient of the accolade, and Gao Xingjian who received the 2000 Nobel Prize in Literature.
NCTU is located in Hsinchu Science Park – Taiwan's 'Silicon Valley' – meaning students can benefit from their proximity to some of the leading high-tech companies in terms of knowledge exchange and employment opportunities. A staggering two thirds of CEOs and managers in the Science Park are estimated to have once been students of NCTU.
The university prides itself on offering students state of the art facilities, including a library which doubles up as a space for concerts and exhibitions, several research facilities and what is considered to be one of the most beautiful campuses in Taiwan, filled with art, sculptures and gardens.
National Taiwan University of Science and Technology (Taiwan Tech)
National Taiwan University of Science and Technology (NTUST, also known as Taiwan Tech) is a technological university located in Taipei, Taiwan. Taiwan Tech was established on August 1, 1974 and has evolved as the leading institution within Taiwan's technological university system.
Taiwan Tech's 14 departments and 24 graduate programs are organized into 6 colleges: College of Engineering, College of Electrical Engineering and Computer Science, School of Management, College of Design, College of Liberal Arts and Social Sciences, and College of Applied Sciences.
The vision of Taiwan Tech is to build an international applied research university, producing globally competitive high-tech and management personnel for local and international enterprises.
The goal of Taiwan Tech is to provide a holistic education that combines sound academic and practical training with an entrepreneurial spirit and core values of social responsibility. Taiwan Tech has built up close academia-industry relations that benefit all levels of teaching and research. With our expertise in technology integration, business incubation and innovation management, Taiwan Tech makes significant contributions to the local industry, and offers an excellent environment for all fields of applied research.
National Yang-Ming University (NYMU) is a research university with various campuses in Shipai, Beitou District, Taipei, and Taiwan. NYMU has six schools and five of those are related to medical and life sciences.
As the first medicine-orientated university in Taiwan, it has been awarded in the Program for Promoting Academic Excellence of Universities for results in two of their top research fields of Genetics and Brain Research.
The university prides itself on educating students through problem based learning in order to cultivate and develop motivation for self-learning that is vital for jobs within medicine.
NYMU is located on the hillside of Qilian, northwest of the Taipei Basin, surrounded by plants, trees and an unfaulted landscape. As the university sits on a hillside, a shuttle bus runs regularly between our campus and station to ensure students can get around.
The campus offers students a library, dormitories, medical laboratories, and activity and sports centre which offers a gymnasium, a hilltop stadium, a hillside stadium, a surface stadium and a swimming pool.
Within the gymnasium are tennis and volleyball court, an aerobics room, a table tennis room, a weight-training room, and a cardiopulmonary room, alongside a 400m track field, a basketball court, a tennis court, and a volleyball court.
The institution has about 70 sister universities worldwide, establishing strong bonds to other successful institutions across the world.
Graduates have penetrated all corners of Taiwan and have become pioneers in basic healthcare services. Notable alumni include Shu-Ti Chiou, a physician who holds major executive positions in international organisations, Hsu Chia-ching, former veteran member of the Taipei City council and Shiu Ming-neng, a physician and a vice-minister of health and welfare.
National Cheng Kung University (NCKU)
National Cheng Kung University has its base in the historic city of Tainan, in Taiwan. It is a university with a pragmatic academic climate, solid research strengths, an international learning environment, interdisciplinary innovation, effective academia-industry cooperation and a pragmatic approach to issues. As a result, NCKU is able to actively exert a positive influence in many areas of endeavour while simultaneously embracing the world.
Since its founding, NCKU has undergone tremendous transformation and growth. Today the school comprises nine colleges in engineering, management, liberal arts, sciences, medicine, social science, electrical engineering and computer science, planning and design, and bioscience and biotechnology. Within these colleges are 43 undergraduate programmes, 36 independent graduate institutes and nine degree programmes. The colleges are located on the main campus, while the Kuei-Jen, An-Nan and Dou-Liou campuses are home to, respectively, the Department of Aeronautics and Astronautics, the Tainan Hydraulics Laboratory and the NCKU Hospital Dou-Liou branch. These features make NCKU one of the most academically comprehensive research universities in the region.
NCKU prioritises talent cultivation. In addition to improving students' domain knowledge, the university also aims to equip students with language proficiency, knowledge of the world's many cultural values, flexibility to adapt to any environment and familiarity with the use of information technology. All of these are abilities necessary for world-class, globally mobile talent. Since it was established, NCKU's 150,000+ graduates have become the backbone of Taiwan's society. In the Global 2000 Leading Companies for 2017, published by Forbes, NCKU ranked 48th among universities worldwide in terms of the number of alumni who have gone on to become chief executives.
According to a database analysis from Elsevier, papers published by NCKU over the past five years were primarily in the following fields: engineering, medicine, computer science, physics and astronomy, and material science. Among these, NCKU's field-weight citation impact rankings in engineering (NCKU=1.02, world=1); medicine (NCKU=1.13, world=1.02); and biochemistry, genetics and molecular biology (NCKU=1.31, world=1.15) far exceeded the global average. Furthermore, the rate of NCKU papers among the top 10 per cent most highly cited papers has grown over the past three years, expanding from 10.9 per cent in 2014 to 14.1 per cent in 2016. The rate of NCKU papers among the top one per cent most highly cited papers remained stable at approximately one per cent.
NCKU has always been a national leader in terms of performance in industry-academia collaboration. Funding from industry-academia collaboration at NCKU reached NT$4.45 billion (£113 million) in 2016. The university has also achieved excellent performance in terms of income derived from intellectual property rights, and in terms of the number of patents and utility models. Despite the economic recession, NCKU's non-government funding for industry-academia collaboration continued to grow from NT$640 million in 2011 to NT$940 million in 2016, expanding from 16 per cent to 23 per cent of overall research funding.
NCKU's results from collaboration with enterprise also lead the nation. In the 2016 Times Higher Education World University Rankings, NCKU ranked 12th in the world in terms of industry income per staff member. NCKU was counted among the top 100 universities worldwide in number of US patents approved from 2012-16. The amount of technology transfer signing fees collected each year has exceeded NT$100 million for nine consecutive years since 2009. NCKU is the only university in the nation to achieve such a performance.
With effective interdisciplinary integration and outstanding academic achievement, and through its research centres, NCKU stays in close touch with social trends and developments. The university assumes a core role in industry and public policy, social engagement and sustainable innovation, and its achievement in these regards are also well recognised around the world.
National Taiwan Normal University

Founded in 1946, National Taiwan Normal University (NTNU) played a vital role in shaping the nation through education as it first established as an educator training institute. Today, NTNU had successfully transformed into a comprehensive university with high caliber of research excellence and holds leading position in the fields of Education, Arts and Humanities, and Chinese Language Teaching. Besides, it is also characterized by the many influential educators and researchers it has nurtured over the years.
NTNU has expanded to three campuses and offers one of the widest spectrum of academic programs in Taiwan with its 9 colleges including Education, Liberal Arts, Science, Arts, Technology and Engineering, Sports and Recreation, International Studies and Social Sciences, Music, and Management.
With the ranking of No.1 by internationalization and No. 4 by academic reputation in Taiwan in the QS World University Rankings 2016, NTNU has drawn more than 7,500 students from over 80 countries each year, appreciating our heritage in teacher training, holistic education and the world-renowned Chinese language program.
With a stimulating academic climate, NTNU not only proffers to the caring community of students, faculty and staff, but also embraces cultural diversity of Taiwan as its main campus located in the hub of the country's dynamic capital, Taipei.
NTNU's mission today is to strive to become a leading comprehensive university in Taiwan, with the focus on Chinese Language and Cultural Studies and Education. Holding "Classical Elegance, Modern Visions" as its hallmark, NTNU is committed to achieving the highest level of distinction and to educating students in preparation for the challenges of a global world of high-tech knowledge economy. With the support of the faculty, administrative staff, and advanced facilities, NTNU will continue to nurture broad minds and bright visions so that the students may achieve their fullest potentials as global citizens.
Founded as Taichung Healthcare and Management University in 2001, Asia University, as it has been known since 2005, is ofte considered among most prestigious higher education institutions in Taiwan. It is based around 10km south of Taichung city centre.
It performs well compared to other universities throughout Asia and of a similar age. Among other things, AU has been praised for its research output and teaching excellence.
A port city with rare temples, classic cafés and teahouses, and a lower cost of living than many others in Taiwan, Taichung's economic growth has partly been driven by its successful shoe-making and light industries. It is Taiwan's third biggest city in terms of population and receives less rainfall than Taipei and Kaohsiung.
AU's campus buildings are renowned in Taiwan for their green credentials and award-winning architecture, which is often Greek or Roman-inspired. AU also owns the Asia Museum of Modern Art, a city landmark on campus with a distinctive triangular structure designed by famous Japanese architect Tadao Ando, an AU alumnus. It contains several permanent exhibitions and hosts a range of events. Giant artworks are also scattered across the rest of the campus. Taiwan is a growing study destination for foreign students, and given that those at AU are guaranteed to live in modern dormitories and have access to its new-build facilities, including a Colosseum-inspired gymnasium, and 100-plus student clubs. The university hopes to attract more high-quality students from overseas in the future, demonstrating a strong commitment to internationalisation.
Follow us on Facebook, Twitter, LinkedIn.